---
RIVOLI THEATRE
904 Chester Street
Myrtle Beach, SC 29577
(803) 448-3355 This is a classic old movie theatre, opened in June 19, 1958 and closed down sometime in the early 1980s - it was open at least as late as 1982. Today, it is all but hidden from view by the large Pavilion parking deck that sits between Higway 17 and Chester Street. The theatre is beside the old King's beachware shop, just off of the corner of 9th Ave. North. I remember going in there to watch movies in the hot afternoons, the A/C was a welcome relief. It was very nice too- everything was covered in carpet. Theatres were once such magical places, and this was one of them. There was once another theatre nearby- the Gloria Theatre, in the last block of 9th Ave. North. The Rivoli is still there, but its been mostly empty since then- a sign in the window once said that it was briefly a children's theatre, then a night club called "The Palladium" for a couple of seasons in the late 1980s- but you'd never know it from looking at the outside. The interior was extensively modified by the club, which ripped out much of the seats, painted it black inside, and installed new sound and light systems. For a time, they had big-name acts like the Allman Brothers Band, and The Wailers, but the club closed in the early 90s. The city purchased it in 1999 for $750,000, with plans to renovate it into a performing arts center at a total cost of over $4 million. [
http://www.RivoliTheatreGroup.com
] A consultant on performing arts theatres was hired through a grant to evaluate the structure and advised against it for many reasons- acoustics, size, parking, wiring, etc. The current proposal is to locate a visual and performing arts center on the old Myrtle Square site, near the current Convention Center. It is visualized as condos built around an arts theme, with the Horry Cultural Arts Council, Long Bay Symphony, Childrens' Museum of SC, and a performance theatre all in one location. The Art Museum has already opted-out of being a part of this. The text of the poster that was in the movie window is online
here
. According to the Arts board, the interior of the theatre is completely trashed, that all the seats and fixtures were ripped out, and everything painted black by the night club. Currently, there are no lights inside, and its full of garbage.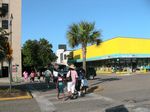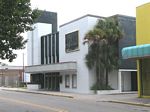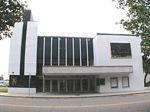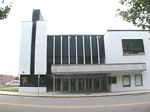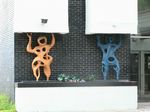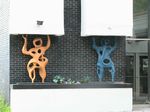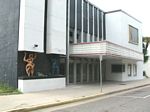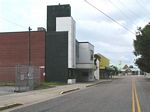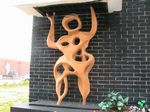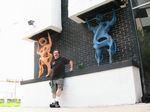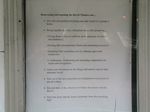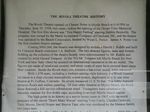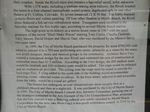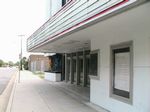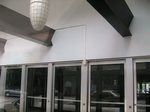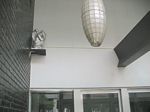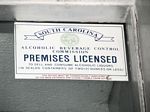 Since these pictures were taken, the male/female figures were recognized as valuable works by famous artist
Gerard Tempest
, and have been removed for safekeeping, possibly for use in a new performing arts center. After standing in front of this empty building for many years, they were nearly thrown away by the group seeking to renovate the theatre. Bob Pickett researched them and tracked down Tempest, who at the time was living in the MB area. At that time, these sculptures were were valued at nearly $250,000! Mr. Tempest lived the last few years of his life in a retirement home in Myrtle Beach, and had a special exhibit at the
Myrtle Beach Art Museum
on Nov. 2-26, 2006. He also opened the first art gallery in the area, Tempest by the Sea, during the early 1950s. The following external pictures were taken on May 13, 2007. The artwork is removed, and an adjacent motel is being torn down. Could this building be next?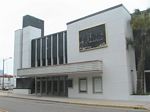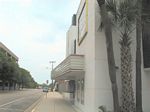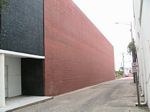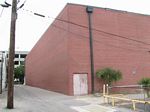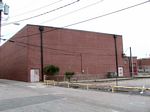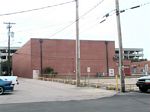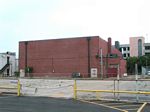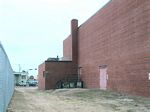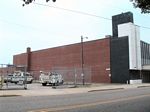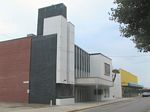 Weekly Surge cover story: History Hangs in the Balance (06/12/2008)
A special local arts project was used as a fundraiser for the Rivoli in May, 2003. Fifty carousel horses were sponsored by businesses, groups, and individual people for $5000 each, and crafted by a variety of artists. These were put on display at a special "Carousel Court" near the food court at Myrtle Square Mall until the Sun Fun Festival in 2003, when they were part of the parade. They were then displayed througout the city for the rest of the summer, then auctioned off, with proceeds used for the restoration of the Rivoli Theater. The
Carousel Horses of Myrtle Beach
page on funbeaches.com has several pictures of the 2003 displays. Many cities have similar art projects, where a single basic design- usually an animal- is interpreted and customized by different artists. Many of these horses are still on display throughout the city.
Chapin Memorial Library:




---