---
HARD ROCK PARK /
FREESTYLE MUSIC PARK
211 George Bishop Parkway
Myrtle Beach, 29579
This park opened in spring 2008, located on approx. 140 acres at Fantasy Harbour, on the corner of US 501 and the Intracoastal Waterway, including the former Waccamaw Pottery buildings. This $400 million park included over 40 attractions, a multi-purpose amphitheater, shows and restaurants, all decorated with unique rock and roll memorabilia from the Hard Rock restaurants. The access road along US 501 leading the park was renamed 'Hard Park Parkway' during that time. The Hard Rock Cafe organization, owned by the Seminole Nation, had no part of the park except for licensing the brand for $2.5 million per year. In 2003, Florida developer Steve Goodwin asked the Horry County Council for the zoning changes to change the old Fantasy Harbour area into a park. For many years, Waccamaw Pottery had a large store, along the highway, with various outlet stores in 2 large "strip mall" type buildings. The area behind it was developed into a number of attractions, including Magic On Ice/Ice Castle Theatre with Nancy Kerrigan, Gatlin Brothers Theatre (now the Christ United Methodist Church), Ronnie Milsap Theatre (now Beach Church), and Medieval Times. Of the original attractions, only the Medieval Times remains open, since 1995. Once rezoning was granted, work progressed rapidly. The original Beatles "Magical Mystery Tour" bus was bought. Gov. Mark Sanford arrived for the ground breaking in 2006, then the bus went on a multi-state promotional tour. Through early 2008, a special "Backstage Tour" preview center was open in front of the park, visible from Highway 501. This free preview included 6 interactive rooms corresponding to the areas of the park: All Access Entry Plaza, Rock & Roll Heaven, British Invasion, Lost in the 70s, Born in the USA, and Cool Country- each of which contains several rides and attractions. This center also contained a scale model of the Led Zeppelin coaster, as well as a model of the entire park. Music features prominently; spread throughout the park are 350 high-quality Peavey speakers, playing a variety of future and current rock hits. This music seamlessly transitions from one area to another, often changing styles within the same song- for instance, in the "Rock & Roll Heaven" area, the song changes to a steel drum version as you approach the Polynesian section, and in the "British Invasion" section, songs transition to flute versions as you approach the Magic Mushroom Garden. The park features a 10,000 person amphitheatre; acts appearing here were Kid Rock, The Eagles, the Moody Blues, and more, with local bands heard at various stages in the park. One favorite was Bruce and Brian McElroy of
The Fab 2
, which played a variety of Beatles, Pink Floyd, and other brit bands in the "British Invasion" section. Across the lake, the brick wall behind the stage at the Whammy Bar was actually moved from the famous CBGB club in NYC. These pictures were taken on Sept. 9, 2007:
Preview Center: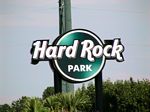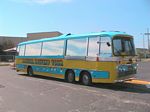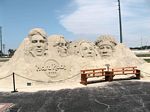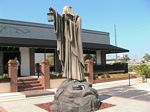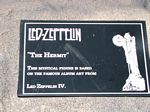 Scale model of the Led Zeppelin coaster. An animated simulation is also shown on a nearby wall.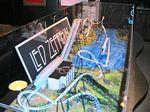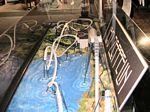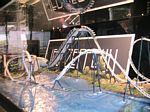 Other rooms/areas: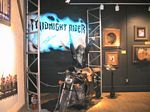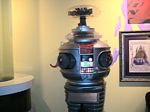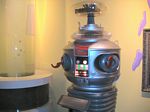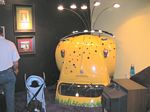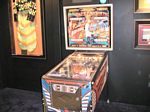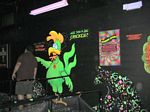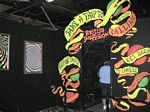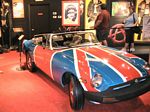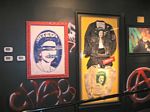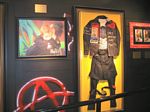 Scale model of the park: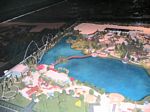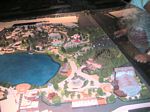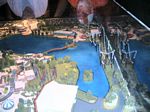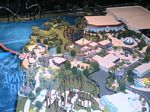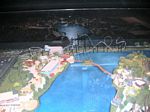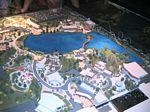 Construction continues on the park, as seen from side road: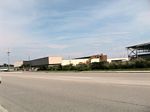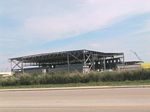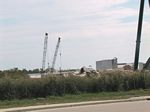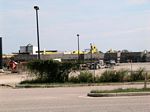 Led Zeppelin roller coaster. Work on this is progressing rapidly- it is ahead of schedule.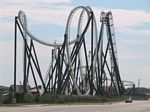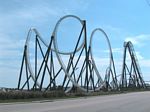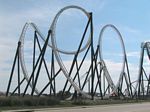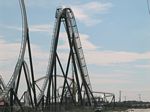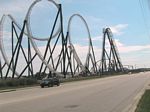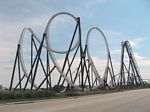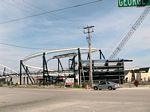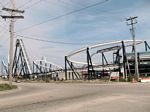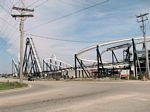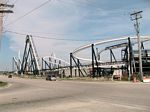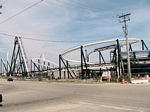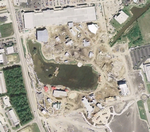 Overhead view of the Hard Rock Park under construction in the old Fantasy Harbour area.
Note the old shopping mall across the top, used for operations areas, as well as the "Lost in the 70s" area and the "Nights in White Satin" ride. Just under the right-hand side of that building is the amphitheatre, with the Roadies Road Show theatre under the left-hand side. Toward the bottom-right is the ice theatre for the "Cool Country" area. The Led Zeppelin rollercoaster is visible along the left-hand side, and is nearly complete.
The park included several roller coasters and state-of-the-art rides from
Bolliger & Mabillard
,
Premier Rides
,
Chance Morgan
,
Vekoma
,
Huss
, and
Sally Corporation
. The park was ready in time for its "Sound Check" soft opening on April 15, 2008, and then for the grand opening on June 2-3, 2008, with consecutive concerts on both Grand Opening nights from The Eagles, and The Moody Blues, both of which had themed rides in the park. The park opened to rave reviews from critics, especially the "Nights in White Satin" dark ride, which was favorably compared to any other ride in the country. However, even the much-promoted Grand Opening failed to attract sizeable crowds, which continued throughout a disappointing season to its premature closing on Sept. 24, 2008. During the grand opening, large numbers of employees were on-hand to handle anticipated crows of 30,000 which never materialized. Much of the problem was the general economic downturn in 2008, with over $4 per gallon gas prices, which had a devastating effect on the entire Grand Strand region. This led to frozen credit markets, which made it difficult for HRP to execute its planned advertising strategy, leading to even fewer people. Another problem was that the park was priced similarly to much larger parks, while only being a fraction of the size. Throughout the season, the park tried to compensate, by cutting back operating hours, and going to weekends-only after Labor Day. Many employees were also laid off- but many foreign students with F1 visas requiring summer-long contracts could not be laid off. HRP's only option was to lay off local workers instead, which lead to hard feelings against the park. Another factor was traffic access; when the large Hwy 501 bridge was constructed, it severely limited access to the Fantasy Harbour area, and likely contributed to the demise of the earlier entertainment complex. A new bridge across the Intercoastal Waterway to the Hwy 17 bypass and Carolina Grand Mall, wasn't completed until 2009 - too late to benefit the HRP. In September, their main investor "Africa Israel Investments" wrote off their investments, then the park abruptly ended the opening season on Sept. 24th. Nearly all of the employees were laid off, and the park went into Chaper 11 bankruptcy, although they expressed hope that they might be able to re-open the next season. The next month, the park was put up for sale; and in January 2009, HRP was converted to Chapter 7 bankruptcy. In February, the park was sold to FPI MB Entertainment for $25 million. Steve Baker was the President of FPI. Many local business who had large outstanding bills from the construction and maintenance of HRP, had filed suit, and FPI was responsible for some of these as part of the deal. The new owners faced many immediate difficulties; The "Hard Rock" brand name was dropped on April 4, 2009, with Hard Rock International claiming that it had been seriously harmed by the park's failure. The original owners also claimed "intellectual property" rights over the original theming, forcing the new owners, who had renamed the park to a more family-friendly "Freestyle Music Park", to quickly rename and rework many parts of the park to comply with court rulings. The main rollercoaster "Led Zeppelin - The Ride" became the "Time Machine" playing 80s and 90s hits, and was renovated by Sundance Architectural Products, who designed the original Blimp around the loading area. "Nights in White Satin" was removed entirely, and replaced by "Monsters of Rock", by ITEC of Orlando. The shows were also changed- the award-winning "Roadies Stunt Show" was replaced by "CSI: Live" which had previously played at Six Flags Magic Mountain in Los Angeles. "Malibu Beach Party" was replaced by "Adrenaline Rush" stunt show with skateboards, bicycles and rollerblades. The nightly "Bohemian Rhapsody" firework, fountain and laser show, was replaced by "Kiss the Sky". All other rides, shows, and locations underwent a similar hasty retheming. Other problems include a lawsuit from BMW over the likeness of the cars on the "Round About" rollercoaster to their Mini Cooper cars. Freestyle Music Park opened on May 23, 2009, with reduced admission prices. Adult admission was $39.95/29.95 for children. They also had a number of special promotions, such as $10 off for NC/SC residents, $17.76 admission on the July 4th holiday, and $19.99 each for 2 tickets before 4pm. Despite this, the park had a weak season; FPI President Steve Baker stated that he was happy with the park's performance, considering a weak economy, debt problems, and overall problems with the amusement park industry. Creditors, however, were anxious to be paid, and lawsuits were filed by Brandon Advertising and Roundbox Advisors LLC, with others following suit in the following months. Despite assurances that investors had been found to help with debt, it was announced on Feb. 2010 that the park would not re-open in March, and the park was closed through the 2010 season. The park filed bankruptcy, and is in the process of being foreclosed. It is not known if the rides will be sold off, and the park dismantled. Links
---